... basically a show for hipster babies, but that doesn't stop me from watching it.
i discovered this show about a year ago when i was home sick from school.
i was flipping channels, and realized the only shows that were on were paid programming, i propose, and a bunch of children's shows. yo gabba gabba caught my attention immediately, and not just because the name is great but because there were dancing monsters and disturbingly excited adults teaching children decked out in gold american apparel gear how to do the "germ dance."
i ended up watching 3 or 4 episodes of this peculiar show that day, and the whole time, i wondered why they didn't have shows like that when i was toddler.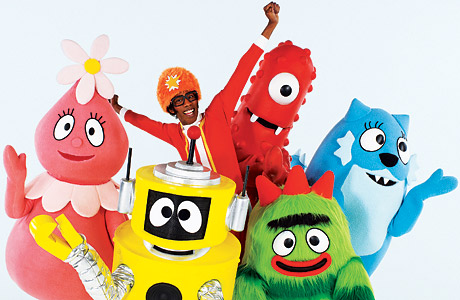 what also makes it incredibly appealing are the special guests in every episode.
uhmm...the website noted the following for season 2:
Jack Black
,
Andy Samberg
,
Amy Sedaris
,
Rachel Dratch (yes, debbie downer!)
, and "The Office's" Melora Hardin, The Roots,
MGMT
,
The Ting Tings
,
Ladytron
, Biz Markie, Jimmy Eat World, Mark Mothersbaugh, Mix Master Mike,
Mates of State
,
Hot Hot Heat
, Datarock ... and
I'm from Barcelona
.
some past guests include The Shins and Elijah Wood ... uh yeah, i said The Shins. ridiculous!
here's a schedule for the week of October 20th:
for more information and guest announcements, check out their news feed here: